In 2019-2020 the Scottish Maritime Museum, undertook a 3D Digitisation Project 'Scanning The Horizon'. Jointly funded by Museums and Galleries Scotland and The Scottish Maritime Museum, it focused on generating accurate 3D records of the museum's collection of large- and small-scale vessels, machine tools and artefacts.
The objects tell the seafaring story of Scotland which was once the most important shipbuilding nation in the world. The collection of the museum is very varied with artefacts ranging from small workshop tools to heavy-duty shipbuilding machinery and large vessels, some that are still afloat at the nearby harbourside in Irvine.

Scottish Maritime Museum In Irvine, North Ayrshire (Image: Martin Shields 2018)
To open up the Museum's collections to a wider audience we turned into modern digital technologies enabling visitors from all around the world to explore our collections online. With the help of RealityCapture, we cannot only increase accessibility but also create an accurate record of our artefacts. It is an exciting example of how small-scale cultural institutions can benefit from 3D technology to improve their digital presence.
RealityCapture underpins all 3D work done at the museum with photogrammetry being the main technique of data capture that we use. However, for the most complex and fragile vessels of larger scale, we combined photogrammetry with terrestrial laser scanning, to ensure we have a survey-grade record that can, later on, be used for conservation monitoring.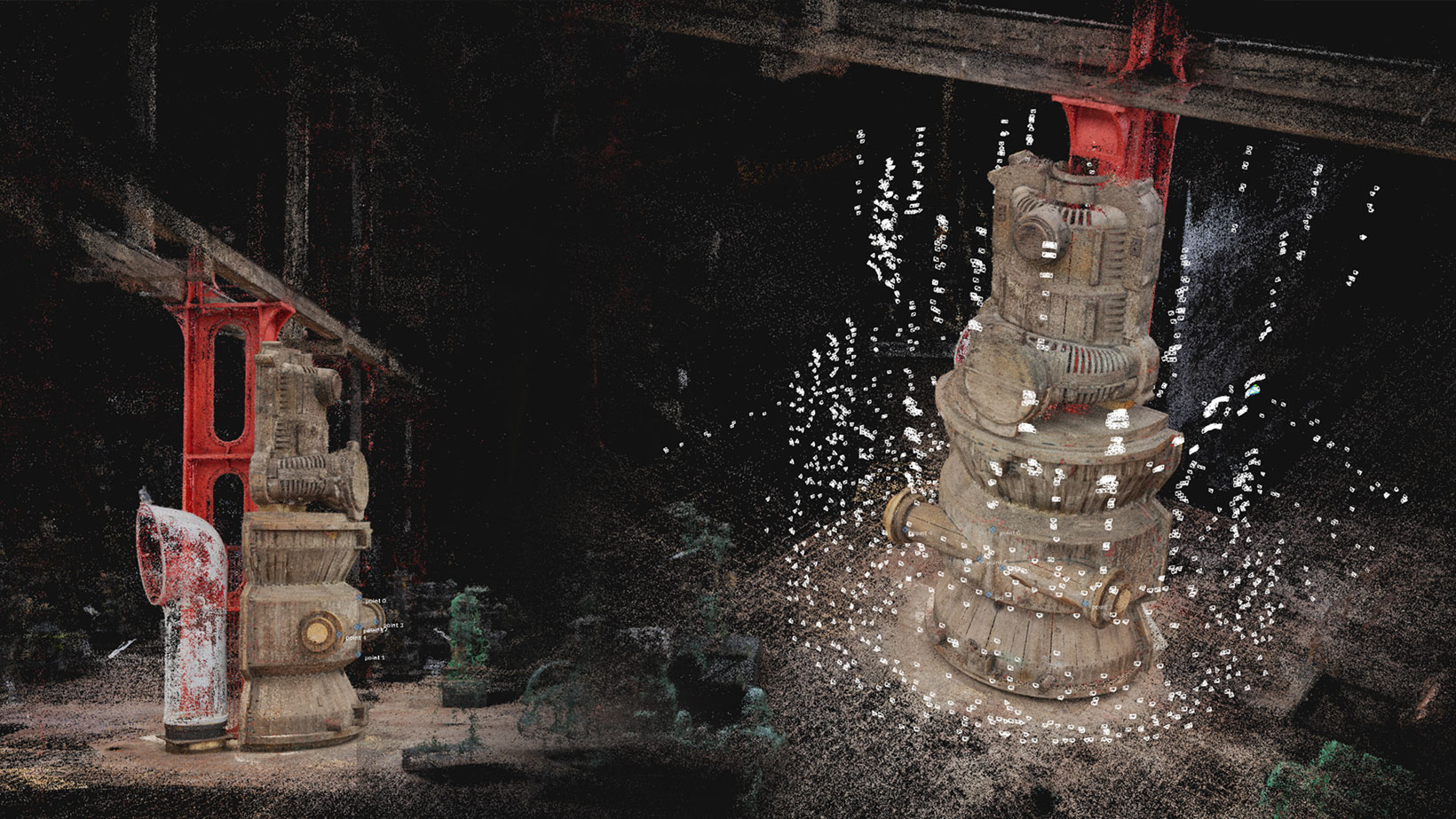 Screenshots from RC: processing of over 5 m tall QE2 Turbine pattern (3D model here)
This approach was dictated by the nature of the documented objects. The collection that we work with can be a challenge for both, photography and 3D data capture. Majority of the collection comprises of quite complex industrial artefacts, with glass elements and metal surfaces, often covered in glossy paint. The large scale vessels, sometimes in a certain stage of decay, have very thin walls which are difficult to register, and even more challenging to reconstruct digitally.
To top it, the large-scale collections are either located outside the museum, on its grounds or inside the museum building housed by a stunning glass roof. This means that the control of lighting conditions is rather limited and can affect the quality of the final dataset.
All of this combined requires a significant amount of test and trial before the right dataset is captured. We simply wouldn't be able to do this without RC. The sheer speed of the software allows us to examine the data and determine how much more is still required to fill empty spots in camera loops. Fast processing of large datasets (consisting of thousands of images and detailed point clouds) and constant overlap checks were crucial to get an accurate reconstruction.
Our main workflow comes down to a few steps, the settings of which are tweaked depending on each project. From straightforward photogrammetry capture in a studio setup with just a couple of hundred images per set, to component workflow when combing laser scanning and chunks of photogrammetry added on different days depending on weather conditions.

MV Spartan: processing in RC (from left to right: PTX, UAV, DSLR+PTX)
MV Spartan has proved to be the most challenging project so far. Over 20 m long and made out of metal coated with glossy paint in some places and corroded in others, and of a complex built, it posed challenges on many levels.
Through collaboration with Historic Environment Scotland, MV Spartan got recorded using terrestrial laser scanning. Over 80 individual high-resolution scans were generated and registered in a proprietary software before being brought to RC as a one PTX, which then served as an underpinning dataset for fill-in and texture photogrammetry: over 5K DSLR and UAV images!
The 3D model can be explored on Sketchfab
Similar workflows were deployed for 3D documentation of SY Carola and Scotch Boiler from PS Waverley (both in partnership with Historic Environment Scotland and Ulmus media), RNLB Jane Anne and a vintage double-decker tram from Summerlee Museum of Scottish Industrial life (in partnership with Leica Geosystems).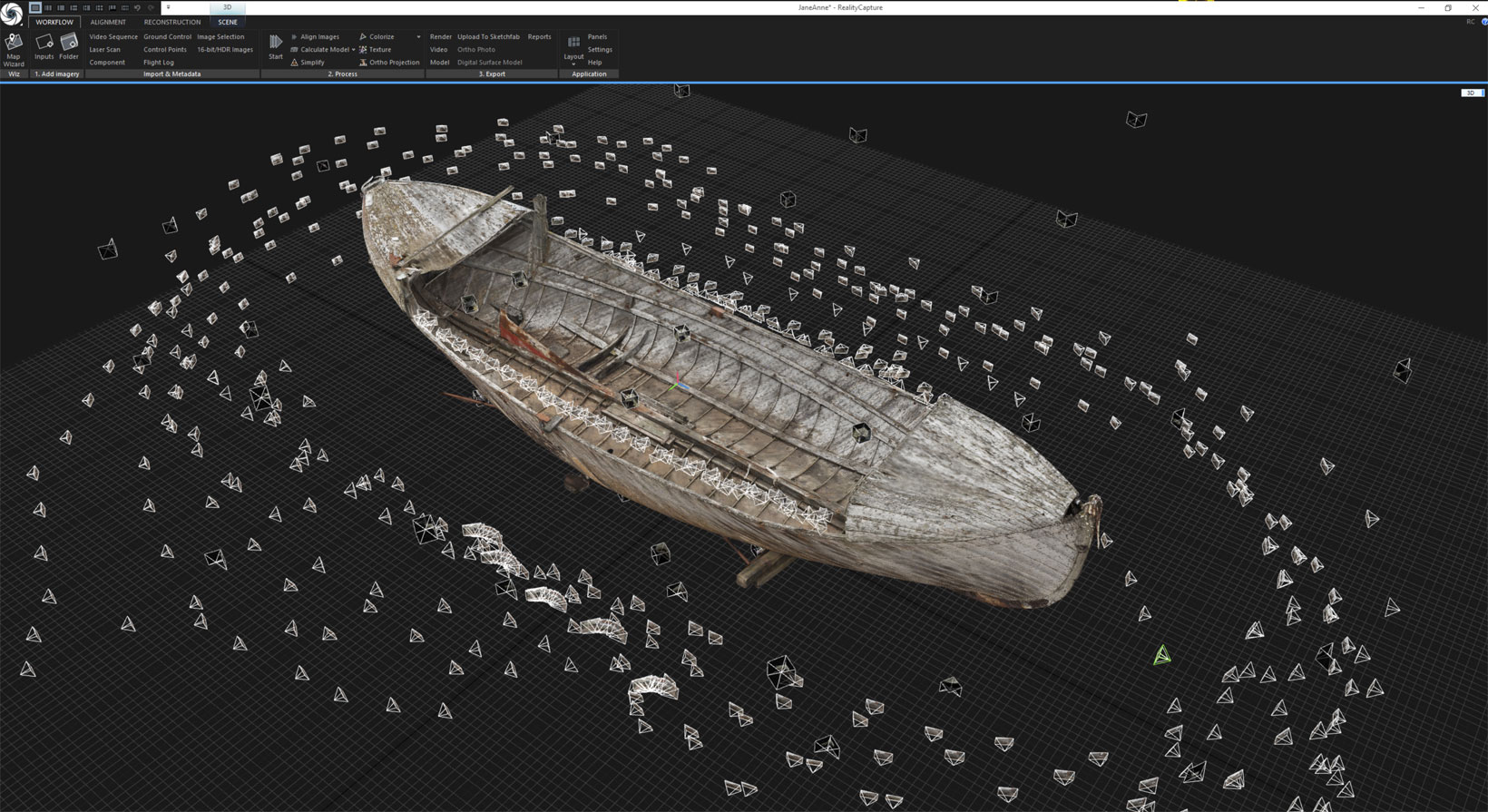 RNLB Jane Anne: Processing in RC
The rest of the selected collection was recorded using photogrammetry. One of the most interesting examples of using RC at the Scottish Maritime Museum was deploying the software to digitally reconstruct the traditional boatbuilding workshop, which is a part of the Scottish Boatbuilding School housed in the Museum in Irvine.
The workshop is not the area that is accessible to the public, and it plays a key role in the preservation of traditional craft skills which are slowly fading away. By taking on craft apprentices the School not only builds traditional vessels but also restores the ones that require work. All of this using traditional skills and materials, the knowledge of which is passed on to younger generations.
Boatbuilders work very fast which makes the workshop feel like a living organism – changing and evolving on a daily basis. That is why it was so important to capture the workshop fast and at a stage allowing us to add a layer of storytelling to the 3D model.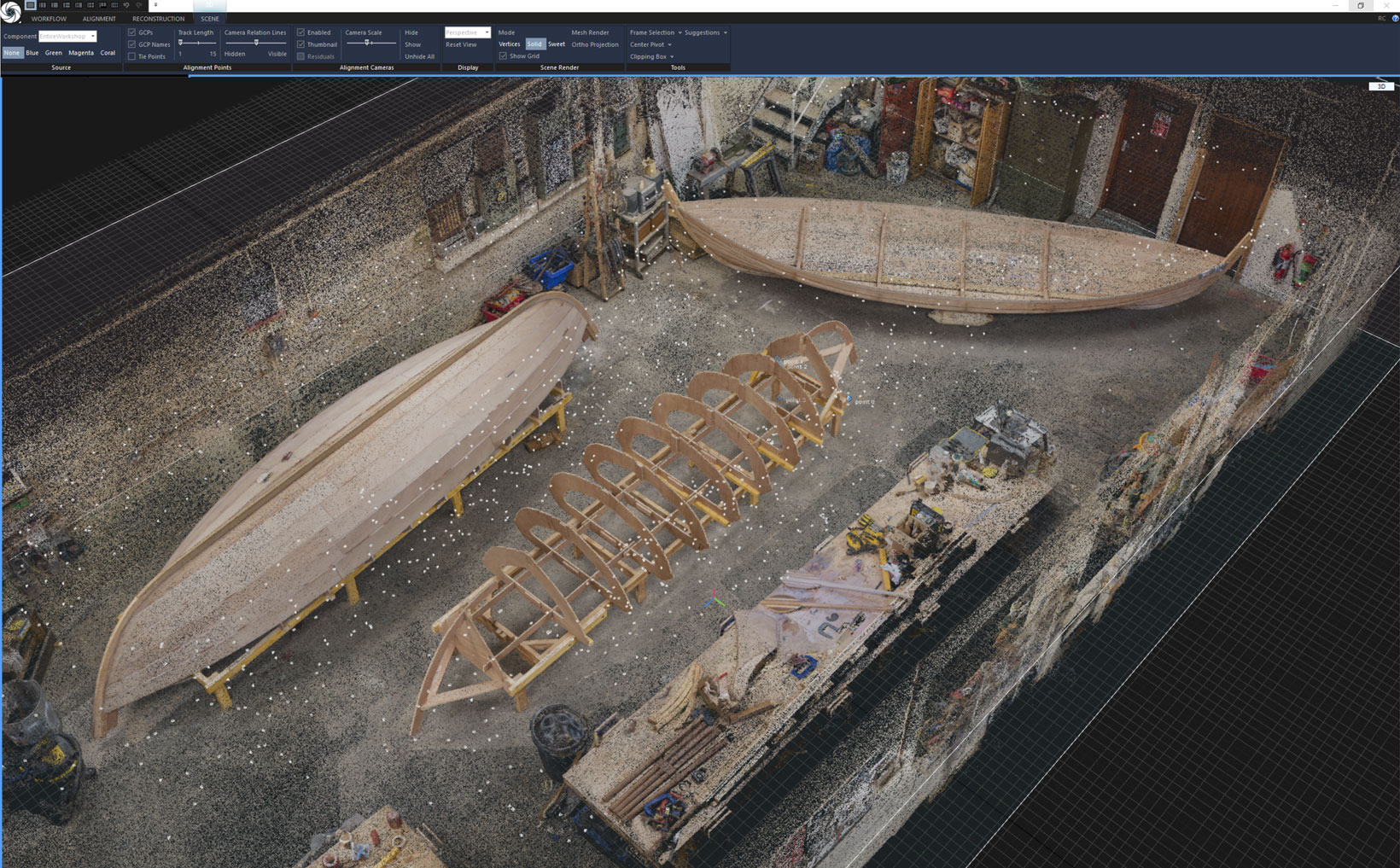 The boatbuilding workshop: alignment in RC
Over the narrow four-hour window, when the modern St Aile's Skiffs were left unattended awaiting further works, nearly 1500 images were captured allowing RC to reconstruct the geometry to a high degree. Again, the algorithms worked surprisingly well despite photography being undertaken in a non-ideally lit space (and in a rush!). To this day it is the output that was met with the highest enthusiasm from both heritage and 3D-community.
Enriched with the sound commentary from the Boatbuilding School Manager, and with multiple annotations on Sketchfab, it offers a glimpse of an otherwise inaccessible space.
The Boatbuilding School (collection)
Now, as the project ended and we look at ways to ensure its legacy, we can see that choosing RC was the best choice we could have possibly made. The digital outputs will remain available for our visitors to explore in the gallery space or online increasing the accessibility of the collection and opening up areas of restricted access.
Credits
Marta Pilarska - 3D Digitisation Project Manager Scottish Maritime Museum
twitter: @M_Pilarska
Sketchfab: https://sketchfab.com/ScottishMaritimeMuseum
Web: https://www.scottishmaritimemuseum.org/
All images by Scottish Maritime Museum unless stated otherwise