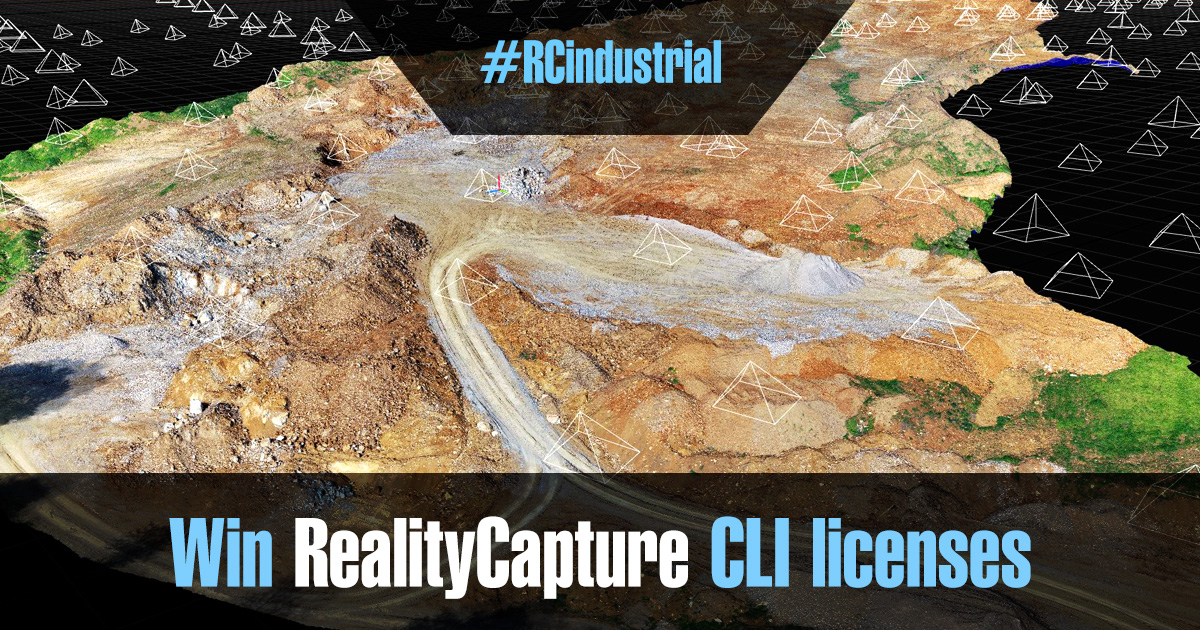 Construction. Surveying. Mining. Structures and sites that are not always an easy task to capture. It requires certain level of skills, time, lots of data, quality, and precision.
RealityCapture loves loads of data and surveying loves RealityCapture's processing power.
Therefore, we are bringing you another challenge!
Join our competition to show your skills and win a CLI license, the most powerful RealityCapture product with unlimited data processing
This competition is opened for RC license holders, as well as newbies to RC (demo may be used). Create a 3D model of an industrial site from the field of construction, surveying or mining in RealityCapture.
Record a fly-through video, upload your creation to Sketchfab and our Forum page, and share it on social media.
The aim of this competition is to create a geo-referenced 3D model of an industrial site.
RealityCapture software must be used.
No post-processing with other tools.
The 3D model must be geo-referenced.
The judges will select 3 best entries::
1st place: 12-month RealityCapture CLI license
2nd place: 9-month RealityCapture CLI license
3rd place: 6-month RealityCapture CLI license
The CLI version, is our most powerfull version of RealityCapture, which also includes the support for command-line/batch processing. Read more here.
Instructions:
Create a 3D model in RealityCapture, upload your creation to Sketchfab and our Forum page and share it on social media.
Post your entry with a fly-through video of a captured model using the RC's animation tool to our Forum page dedicated to this competition.
In description of your model, provide the following information: capturing methods used (UAV, handheld camera, lidar...), quantity of processed data & resolution of images, short description of the place (location, etc.), computational time in RealityCapture


Share your work on your social media and/or in our Capturing Reality Arena (highly appreciated) using tags #RCindustrial and #realitycapture.
If you are a license holder, upload the model to Sketchfab, use tags #RCindustrial and #realitycapture.
Upload the video to your YouTube* channel.
*Chinese users may upload their work on Youku instead due to the region-specific YouTube restriction
RealityCapture application must be clearly visible in the video.
Max. length: 30 seconds.
We propose that you use the screen grabber or the animation tool integrated in RealityCapture, however, feel free to use other tools, add music, and so on.
Include the company name (Capturing Reality) and its logo.
Example of a fly-through video:
Judges
Capturing Reality Team.
General Conditions:
Only entries created in RealityCapture software will be accepted.
No post-processing is allowed.
By entering this competition, entrants will be deemed to have accepted and agreed with the terms & conditions of this competition.
All entries must be original works.
The judges' decision is final.
The winners will be contacted within 7 business days after the end of the competition.
The prize draw is not open to Capturing Reality employees or their families.
The participants automatically give rights to Capturing Reality to use the result of their work for marketing purposes.
The winners will provide CR with the project result or source data for marketing purposes.
Each participant retains the intellectual property, Capturing Reality will not take credit for the models entered into the competition, and when used for promotional purposes, the owner of the model will be clearly stated.
Promoter: Capturing Reality s.r.o.
New deadline: 11 August 2019, 23:59 UTC+1:00