Inspection of any industrial site, construction site, high rise buildings, towers, bridges, railways, and many others, may often be risky, time-consuming, and expensive. Therefore, more and more professionals are starting to prefer virtual inspections. Gathering data for the creation of a digital twin of an object or site has proven to be more efficient as it decreases the risk the inspector is exposed to as well as reduces the downtime.
RealityCapture software can quickly process the gathered data, either from lidar, drone, or DSLR into realistic and detailed 3D model, which is consequently imported to third-party software, for inspection. One such software is TwinSpect by Twinsity. TwinSpect is the state-of-the-art software solution for remote inspections, by leveraging true-to-life digital replicas. TwinSpect combines the ultra-high-resolution 3D models with the original drone images of the asset, allowing the best of both resources to be used for simple, efficient, and reliable virtual inspections.
"Virtual asset inspections require high-quality digital replicas of the assets, so that issues and interesting spots can be identified. We are convinced that RealityCapture delivers ultra-realistic and true-to-life 3D mesh models with high-resolution textures, which makes it possible to identify every detail and issue directly in the 3D models. The support and the vision of the Capturing Reality team are really inspiring and excellent. We at Twinsity are very proud to work together with you, and jointly drive virtual inspections to play an important role in the AEC industry." Fabien Chalas, Co-founder & CEO at Twinsity.
What are the benefits of inspecting RealityCapture models with TwinSpect?
Combining the power of RealityCapture with the set of tools that TwinSpect has to offer leads to spending less time on-site allowing to conduct a large part of inspections collaboratively and remotely from the desk. The results can be easily shared with other experts to gain even more empowered decisions. Moreover, hard-to-reach spots are no longer a problem as the high-quality 3D models enable the smallest damage and issues to be detected everywhere.
You may navigate through ultra-realistic 3D models allowing you to perform virtual inspections and understand the complex structures of your assets.
Choose from a variety of Powerful markup tools and annotations for inspections.
Generate high-detail inspection reports.
How to import RealityCapture model into TwinSpect?
The combination of RealityCapture and TwinSpect is easy and straightforward to use. To set up the TwinSpect project from the RealityCapture project, it is necessary to export the following:
Export the 3D mesh model in OBJ format
Export the camera alignment registration as "Internal/External camera parameters" in CSV format.
Import the 3D model into Twinsity.
Activate the TwinSpect view and upload your original images by choosing the CSV file and the image folder.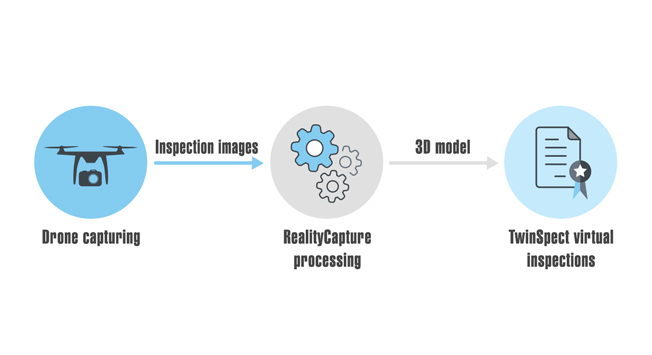 About Twinsity
Twinsity GmbH is a German-based and fast-growing technology startup that was founded by Uwe and Fabien Chalas, with a focus on innovative and state-of-the-art software solutions for the AEC industry. Twinsity provides a tool to efficiently present reality capture projects, work cooperatively with them and share them worldwide. Working digitally with 3D models opens completely new possibilities for professionals to inspect digital twins and share them with clients.